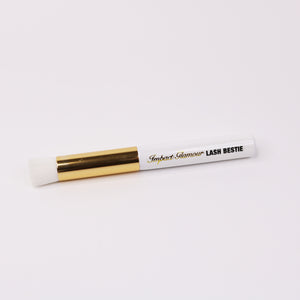 Say hello to my lil lash friend! 
The lash bestie brush by Impact Glamour is the perfect aftercare tool to use along with our dirt busting lash foaming shampoo. Taking care of your precious eyelash extensions has never been easier, using the Lash Bestie Cleaning brush and one pump of lash shampoo per eye. 
HOW TO USE:
Gently rub brush containing lash shampoo onto lash line using a circular motion. Repeat if necessary. Then rinse Lash Bestie Brush before starting cleaning on other eye. It is very important to rinse off shampoo residue from lashes by running cleaning brush under water and using a clean cosmetic sponge with warm water to remove any residue left behind by wiping lash line and complete eyelid area.