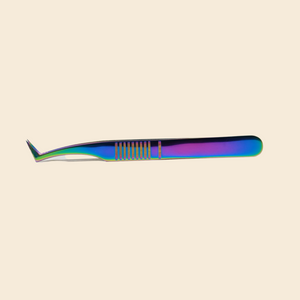 Mermaid Tail is the star of the Mermaid Fantasy Collection. With its curved tail and precise grip you will be creating perfect fans without a hassle. 
With its boot like shape and wide bed tip  you'll be able to optimize each fan to its FULLEST potential.  We recommend this tweezer for Volume and Mega Volume fans , but can be used for classic lashes as well.
All of our tweezers are made with medical grade hand finished chromium steel, allowing it to withstand both chemical and atmospheric conditions. Chromium steel also allows high heat sterilization and superior wear and tear resistance. Each tweezer is counter balanced to ensure a precise application. 

As part of our A+ standard we make sure to hand test each tweezer before being shipped out to you .