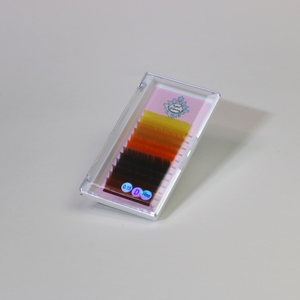 At Impact Glamour we pride ourselves by the quality of our products. Each tray is hand made and inspected by us personally to insure that each order being sent out is pure quality. 
The beautiful " Sunsets in Miami" comes with 6 different colors, 12 rows total. Eac color will come with two rows of the color. 
Colors included are: Sunshine yellow, bright orange, toasty yellow , Light brown, Chocolate Brown , and black.
This lash tray is great to make sure you have a little bit of everything without spending to much for those clients who want that pop of color.