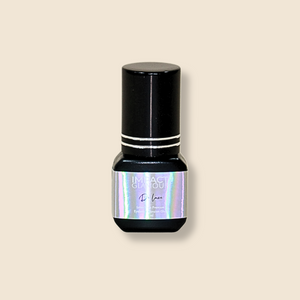 Work with nothing but the best and leave the rest behind!
De Luxe Premium adhesive by Impact Glamour has a bonding strength of 8 weeks and it's ideal for all lash artists in need of a fast-drying flexible adhesive, with amazing retention and most importantly a sensitive formula to reduce eye irritation.
It's very thin consistency and rapid dry time make Mega Volume Lashing so much easier and faster, making attachment a solid breeze and keeping your fans perfectly open with ease. Also recommended for classic lash extension applications.
HIGHLIGHTS
- This adhesive works best in humidity between 30% and 70%.
- Ideal environment temperature 65 - 75 degrees F.
- Recommended Humidity and temperature for very fast drying time and best retention; 45%-65% humidity, and 70-72 Degrees F.
- Retention- 7- 8 weeks
- Viscosity- Thin
- Color- Seamless Black
- Fumes- Minimal
- Structure- Flexible
Drying Time(s) 30-40% Humidity-  1-2 Sec 40-60% Humidity- 0.5-1  Sec 60-70% Humidity